The popularity of investment apps in India has grown exponentially in the past few years. First of all, these applications are quite user-friendly. Second, one does not require to be a professional investor in order to make investments using these applications. Just about anyone who wishes to diversify his/her portfolio in the most affordable way can use these applications. Last but not least, there are a variety of convenient services and features offered by these apps at low fees.
With an investment app, it becomes easy to build, manage and even track the investment portfolios with just a few taps on the mobile screen.
But the problem is that there are more than dozens of investment apps in the market. Choosing the right one is quite intimidating. That is why we have created a list of the best investment apps in 2022, so you can make a sound choice.
5 Best Investment Apps In 2022
1- KredX Invest – Alternative Next-gen Investment
KredX Invest is an investment application launched India's leading integrated cash flow solutions provider – KredX. This easy-to-use holistic application enables investors to invest in blue-chip invoices so they can make high returns at low risk in a short period.
You can easily unlock the true potential of your portfolio with alternative investments while earning above the market returns in just 30 to 40 days.
Here are some impressive features you can use in KredX invest:
Comprehensive investment platform: KredX has managed to integrate its customer-first policy in the application, too. Investors get to use a highly comprehensive ecosystem to purchase deals and reap remunerative returns. Using the application, the investors/user can invest, manage and track their portfolios over time. They have made it easy to access current and past deals. You can even analyse deal-level metrics on the platform itself, for instance, the KredX score. In short, just the application is enough for you to make a well-informed decision.
Click and invest: With the KredX Invest investment application, every business – big or small, irrespective of their niche – gains liquidity. This means every investor is offered a healthy portfolio diversification option with their business's invoices. KredX proves to be the one-stop shop for new-age investors who wish to dive into various investment pools to earn more than what the market is capable of offering in a short period, making it one of the best investment apps in India.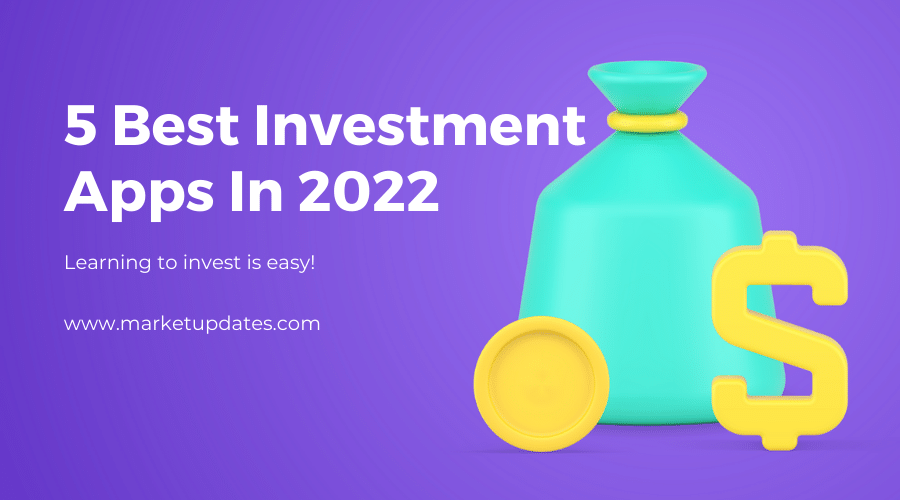 2- TD Ameritrade
TD Ameritrade is another best investment app that offers something to every investor, irrespective of their expertise level.
For starters, with the standard TD Ameritrade mobile application, beginners can experience an excellent, easy-to-use interface. The advanced players, on the other hand, can experience a professional-style experience with its thinkorswim mobile application.
Both users can access the brokerage account using either of the application. Users don't require a minimum deposit and can use accounts like standard, retirement, education, etc.
When it comes to investment, you have a wide range, including ETFs, fixed income, stocks, bonds and so on.
3- Fidelity – Investment Apps
Fidelity is quite well-known among its users for its focus on retirement education, such as retirement tools and others.
Using this investment application, you do just about anything you wish to with your investment account. You can even integrate it with your Apple watch and Google assistant to use more exciting features. By linking your investment account with fidelity sprite, you can set and track your investment and savings goal.
You can invest in stocks, mutual funds, ETFs, fractional share investing and a few others.
Fidelity supports accounts like retirement, education accounts, brokerage, etc.
4- Acorns
Acorns is a banking application that provides creative funding options along with round-ups for purchases initiated with connected cards and recurring transfers.
The brokerage providers ETFs and generates certain suggestions on the basis of a survey you fill out while setting up the account.
However, the application charges a monthly subscription fee and additional charges on certain features.
You can use accounts like Robo-advisor, checking accounts and retirement. The best thing is that you can earn money on shopping with the linked card from the partner retailer.
5- Webull
The last investment app on our list is Webull, which many active and expert traders use. It is quite an impressive application for trading ETFs, stocks, cryptocurrency. Plus, it supports IRAs. But, you cannot trade bonds or mutual funds with Webull.
The best thing about Webull is that it focuses on free trading and investing. Since the application is more about active stock, beginners may feel overwhelmed.
Webull also makes paper trading possible and has some excellent advanced charting features. But, it only supports IRA accounts and brokerage – quite limited investment types.
Signing off
The applications suggested above are picked based on their features, pricing, account types supported, ease of use and assets availability. Since every person's needs are different when it comes to investing, ensure to choose one based on your requirements. write for us investment.